Itaewon Class 2020 - Korea Drama - Season 1
On the first day of attending his new high school, Park Sae Roy gets into trouble after punching Jang Geun Won, who had been bullying a fellow classmate. Jang Dae Hee, the father of Jang Geun Won, is the CEO of the restaurant business Jagga, and the boss of Park Sae Roy father. After refusing to apologize for punching Jang Geun Won, Park Sae Roy father is fired, and he is ultimately expelled from school.
Soon after, a tragic accident, caused by Jang Geun Won, takes place and Park Sae Ro Yoy's father dies. Heartbroken and angry at his loss, Park Sae Roy viciously beats Jang Geun Won, earning himself time in prison. Deciding to take revenge upon the Jagga compony and the Jang family, Park Sae Roy opens his own restaurant in Itaewon, Seoul.
Park Saeroyi's life has been turned upside down after he gets expelled from school for punching a bully and his father is killed in an accident. Following his father's steps, he opens a pub named "DanBam" in Itaewon and, along with his manager and staff, strive towards success and reaching greater heights.
Drama: Itaewon Class
Country: South Korea
Episodes: 16
Aired: Jan 31, 2020 - Mar 21, 2020
Original Network: jTBC, Netflix
****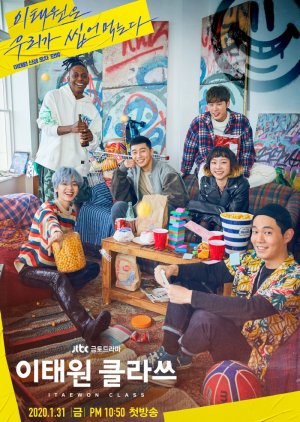 Itaewon Class 2020 - Korea Drama - Season 1