Zenbook 13 (UX325) and Zenbook 14 (UX425 / UM425) Ultrathin Laptop
ASUS has taken two new super-thin laptops off the veils. The Zenbook 13 (UX325) and Zenbook 14 (UX425 / UM425), described by the company as the "World's thinest 13.3-inch and 14-inch laptops with maximum I / O ports," were released on June 22 at an online event hosted by Ivan Besskyi, Regional Technical Marketing Manager of ASUS East EMEA – PC and Gaming.
The laptops offer ultrathin and lightlight design and weighing just 1.07kg for the Zenbook 13 and 1.13 kg for the Zenbook 14 with both measuring 13.9 mm in minimum thickness.
Both Ultraportable laptops come in a gorgeous design with super-thin 2.5mm bezels, Edge to Edge keyboard, and ErgoLift Hinge
Some models will feature ASUS NumberPad 2.0 that offers a numeric keypad on the TouchPad.
You get a 13.3-inch IPS display on the Zenbook 13 and a 14-inch IPS display on the Zenbook 14. Both displays offer full HD resolution (1920 x 1080) with 4 sided NanoEdge display and amazing 90% screen to body ratio.
This is a 1W panel that offers efficient power consumption. While the IPS panel offers up to 450 nits brightness, you can get up to 22 hours battery life by reducing brightness to 33 to 35%.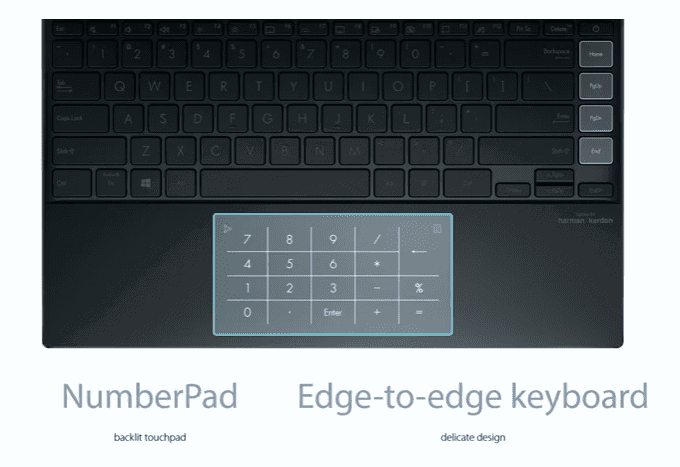 The ASUS Zenbook 13 UX325 will offer upgraded 10th generation Intel Core processors (up to Intel Core i7-1065G7) with up to 32GB 3200MHz LPDDR4x RAM and up to 2TB PCIe 3.0 solid state drive.
Unlike the Zenbook 13, the Zenbook 14 offer the option of AMD processors. While the model with Intel processors called the Zenbook 14 UX425 offers exactly the same hardware configuration as the Zenbook 13 UX325, the AMD model (Zenbook 14 UM425) are a bit different.
The Zenbook 14 UM425 features AMD Ryzen 7 4700U processor with up to 16GB 3733MHz LPDDR4X RAM, and up to 1TB PCIe solid state drive.
The Intel models sport Intel Iris Plus Graphics or Intel UHD Graphics while the AMD models offer AMD Radeon Graphics. Support for Graphics cards are not provided for the new Zenbook laptops.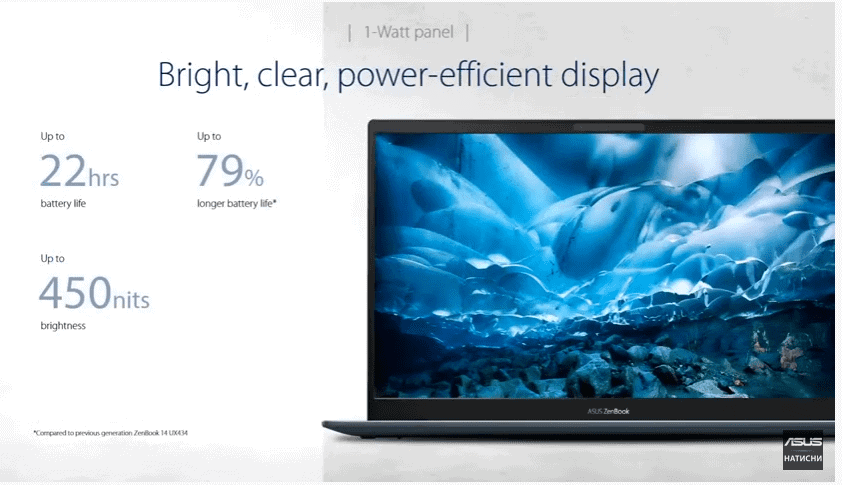 This is however not the only difference between the Intel and AMD models. One major difference you need to watch out for is that the Intel models offer two USB Type C ports that support Thunderbolt 3, while the two USB Type C ports on the AMD model don't have support for Thunderbolt.
Both USB Type C ports are capable of fast charging and thanks to ASUS USB-C Easy Charge tech you can charge the laptop with just about any charger with USB Type C and Power Delivery.
The bundled charger can charge the built-in battery to up to 60% capacity in just 50 minutes and we are not talking about average battery here as the laptops feature a massive battery.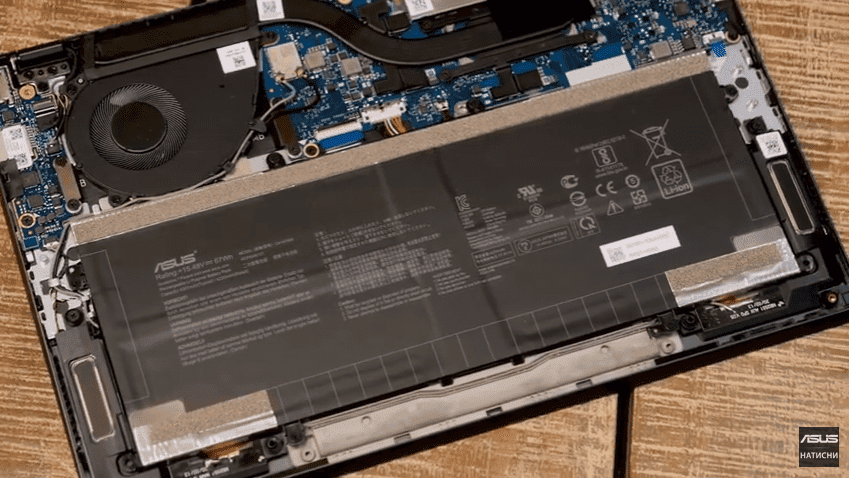 The new Zenbook 13 (UX325) and Zenbook 14 (UX425 / UM425) features a 4 cell, 67 Wh built-in battery that takes a lot of space inside, but delivers an impressive up to 22 hours battery life.
ASUS also claimed the 50 minutes charge to 60% will give you up to 13 hours battery life
Other ports available on all models include an HDMI port, a USB Gen 1 Type A port (USB 3.2), and a microSD slot.
All the new notebooks feature Wi-Fi 6 with Gig+ performance (802.11ax), Bluetooth 5.0, HD camera with infrared sensor for Windows Hello.
One notable exclusion from the 2020 ASUS Zenbook Series is a headphone jack. According to Ivan, it was a compromise and there was literally no where to put it inside the chassis because of the compact design of the notebooks.
This is partly because of the massive battery and the priority given to keeping the USB Type A port and HDMI port. The Edge to Edge keyboard was also a contributing factor.
Another reason Ivan gave was that wireless Bluetooth headphones are now getting popular with consumers. However, ASUS will bundle a USB-C to 3.5mm jack dongle with the laptops.
Another result of the compact design and in part the massive battery of the ASUS Zenbook 13 (UX325) and ASUS Zenbook (UX425 / UM425) is that the memory (RAM) will not be upgradeable as there is no room for memory expansion slots. The RAM is soldered directly unto the board.
Intel models will come in 16GB RAM and 32GB RAM options, while the AMD models will come with 8GB RAM or 16GB RAM options. The built-in storage is however upgradeable.
The ASUS Zenbook 13 (UX325) and ASUS Zenbook (UX425 / UM425) will be available July / August 2020. While the UX325 and UX425 will come in Pine Grey, the UM425 will be available in Lilac Mist. Prices are yet to be confirmed.